We have been reading some excellent stories from Wanda Gag this week. She is so cool! Just look at her:
My favorite so far is the book "The Funny Thing". It is about a little man who makes food for the animals in the woods. He comes across this animal that he doesn't know. It turns out that it is not an animal but an
aminal
(my mom would like that one!). This aminal eats little children's dolls and the little man thinks up a plan to change that. You'll have to read the book to find out how!
This next picture is from the book "Millions of Cats". I think by far it is her most famous book but ALL of her books are just as good. She has such a unique style of writing and illustration don't you think?
Here is the cover to another of her books that we read this week: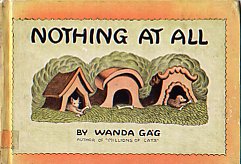 This story is about an invisible dog named nothing-at-all. He doesn't mind his invisibleness until some kids come and take his siblings but leave him behind because they couldn't see him. He is told by a bird that if he spins every day that he will go from being "nothing" into "something". While he spins he chants "I'm busy getting dizzy".
Happiness is... cooking dinner while Caitlyn and Ben are in the livingroom "busy getting dizzy"!