This is my guy.
He is a little man of many faces.
He just turned 5 this weekend.
He's growing and learning all too fast now.
The changes I've seen in him the past year are simply amazing.
Learning letters and numbers. All his Classical Conversations memory work.
This boy even sings now, with words!
He's still shy but if you ask him to talk he will hold a conversation with you - a real one.
Ben is a blessing. After having three girls the odds of having a boy where stacked against us. We didn't feel our family was complete but after two miscarriages we weren't sure if God had any more children for us. By God's grace he gave us another child and the boy we hoped for for many years. (oh, and then right after that he gave us Bethany but that is another story)
So if you did your math you already know that we have five children. I love them all so much and my life is a mix of joy and hardship. (boy would I say that I
make
most of my hardship!) In all this I want to remember the multitudes of blessings, God's love and grace that He lavishes upon me, and I want
that
to scream out over all the negative thoughts that can run through my head each day. I'm starting my journey with
Ann
: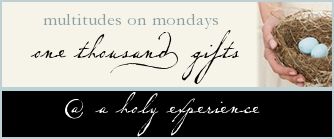 Thanking Him for:
my boy
a warm house (we are at zero degrees right now!)
a giving husband
soft yarn to knit
a Savior who never sleeps nor slumbers NOR tires of ME!