Today is "
Multitudes on Mondays
" over at Ann Voskamp's blog. Today's post is particularly inspiring because really what good does it do for my children if I am thanking God and not sharing that with them. Can you guess what we are going to start do tomorrow?
For too long I deep down secretly grumbled and complained that my life was too hard, I was too lonely, too tired, deprived of things I really loved. I was starting to not believe that:
"
The LORD is my chosen portion and my cup; you hold my lot.
The lines have fallen for me in pleasant places; indeed, I have a beautiful inheritance." Psalm 16:6
That verse once was very dear to me. Maybe because I thought that everything was going my way.
But life isn't about things going my way. God's way really is BEST! It may not be the easiest or the most comfortable or the most glamorous but it is my Heavenly Father's way.
In it I am not alone. He is right there with me. He strengthens me, helps me (
How Firm a Foundation
). I really am upheld by his loving hand. The waters have never overflowed, the flames have never hurt me, and I have never been deserted. And I know that even if all hell should endeavor to shake me, (and boy I have never even been
close
to that) "in [His] presence there is fullness of joy" (Psalm 16:11)
So I am choosing to be Thankful. Gratefulness really changes your perspective. It helps you to see the truth. I makes you among other things: Sober.
My heart is filled with thankfulness
To Him who reigns above
Whose wisdom is my perfect peace
Whose every thought is love.
Every thought He has towards me IS love. Thank you!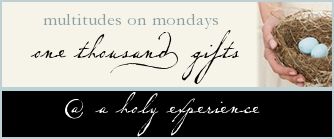 24. New stairs and new paint! (I will share pictures soon)
25. Spring has finally come! Things really do grow in MN.
26. Crocus. The feeling of Easter swept over me when I saw them.
27. The Arboretum.
28. This girl.
29. Those flowers that pop up in my yard every year.
30. This growing boy.
31. Medicine and how it heals. (Don't worry, we also consumed LOTS of yogurt)
32. Being able to go to ballet and the cheer I received when I walked in the door. Thanks ladies!
And since I am having a hard time ending this post with a picture of Amoxicillin here is one more and another picture...
33. I am rescued.