Everyone deals with pain in a different way. As a little girl I remember my father brushing my hair. I would scream out (believe me I was a drama queen. I'm sure I screamed out more than I needed to - wonder where my girls get it from....) and my father would say, "That doesn't hurt!" Other times when I would fall he would say, "That's ok, you are fine, get up, it doesn't hurt, come on."
And not only physical pain. In my family we ignored the emotional pain too. Stuff it down, don't cry, you are strong and if you ignore it long enough the pain will eventually subside and you can forget.
I've done that all my life. And I've done that with God.
You see I've been
doing so well lately
. I've been able to rest in my heavenly father's love. I've been able to believe it, to know it, and to be free in it.
But
life has also been going fairly well. Spring is finally here and the snow is melting. The workload hasn't been that overwhelming. I've had a little more fellowship.
And then
This hurts.
How do I respond? What is my reaction?
My first reaction: cry. Wow! This is good, I've so often in life just got distant and said, "That is sad." and went on with my life. Crying is good!
But then I had to go on with my day. I had meals to make and kids to take care of. As the day went on and on I could feel my heart getting cold.
I put up my wall. I protect myself. I start to feel that God is not on my side. He won't answer my prayers. His thoughts toward me are indifferent. He doesn't really care.
sunset taken by my daughter
A good friend asked me yesterday how she could pray for me. After I told her she asked me what was I going to do.
I told her I was going to repent.
God has not chan
ged just because my grandmother is getting weak. God did not stop caring for me. He did not stop loving me as his precious daughter. He did not stop answering my prayers!
I am still his child. He is still my shelter. He is still my heavenly father!
I will choose to praise. I will choose to hurt
. I will choose the truth.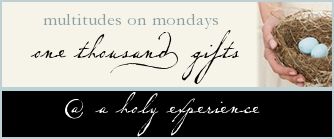 Choosing to thank Him.

10. I have a shelter in Him
11. In ministering to others I am encouaged
12.
Anne Steele
13. My Heavenly Father loves me. He really does.